" Dream it, live it, do it! "
[In malay]
Nama program: Bengkel VLSI Failure Analysis, IC Fabrication and Microelectronic Packaging bersama KKTM Beranang 
Tarikh: 25 April – 6 Mei 2011 
Tempat: Bilik Kuliah Makmal Rekabentuk Sistem Mikro dan Makmal Fabrikasi Mikroelektronik (MiNT-SRC). 
Nama Penceramah: Dr. Nafarizal Nayan, En. Ahmad Alabqari Ma'Radzi, En. Muhammad Shukri bin Ahmad, Dr. Muhammad Mahadi Abdul Jamil dan En. Tengku Nadzlin Tengku Ibrahim. 
Peserta: Pelajar-pelajar dan pensyarah-pensyarah daripada KKTM Beranang. 
Kursus pada kali ini telah disertai oleh 8 orang pelajar dan empat orang pensyarah daripada KKTM, Beranang. Para pelajar yang menyertai program ini merupakan pelajar Diploma dalam bidang Mikroelektronik. 
Sepanjang 2 minggu latihan, para peserta didedahkan dengan konsep dan teori yang bermula daripada pengenalan terhadap mikroelektronik, VLSI Failure Analysis, Microfabrication Technology, Advance in Microelectronic, IC Fabrication Process, IC Failure Analysis and Decapsulation, IC Assembly and Packaging dan terakhir sekali ialah IC Failure and Confocal Imaging. Setelah peserta didedahkan dengan teori, maka para peserta diberi peluang untuk melakukan sendiri yang bermula daripada schematic editor, layout versus schematic, design for test, wafer preparation and cleaning, field oxidation process, photolithography and etching, dopant diffusion, gate oxidation process, contact hole etching, metallization process using PVD system, photolithography and metal etching, N/PMOS transistor I-V analysis, maintenance of cleanroom, IC failure analysis and decapsulation, IC assembly and packaging, dan proses yang terakhir ialah IC failure analysis and confocal imaging.
Akhir sekali, MiNT-SRC megucapkan ribuan terima kasih atas sokongan serta penglibatan para peserta semasa sesi latihan ini dijalankan. Disini disertakan gambar-gambar semasa sesi latihan dilaksanakan.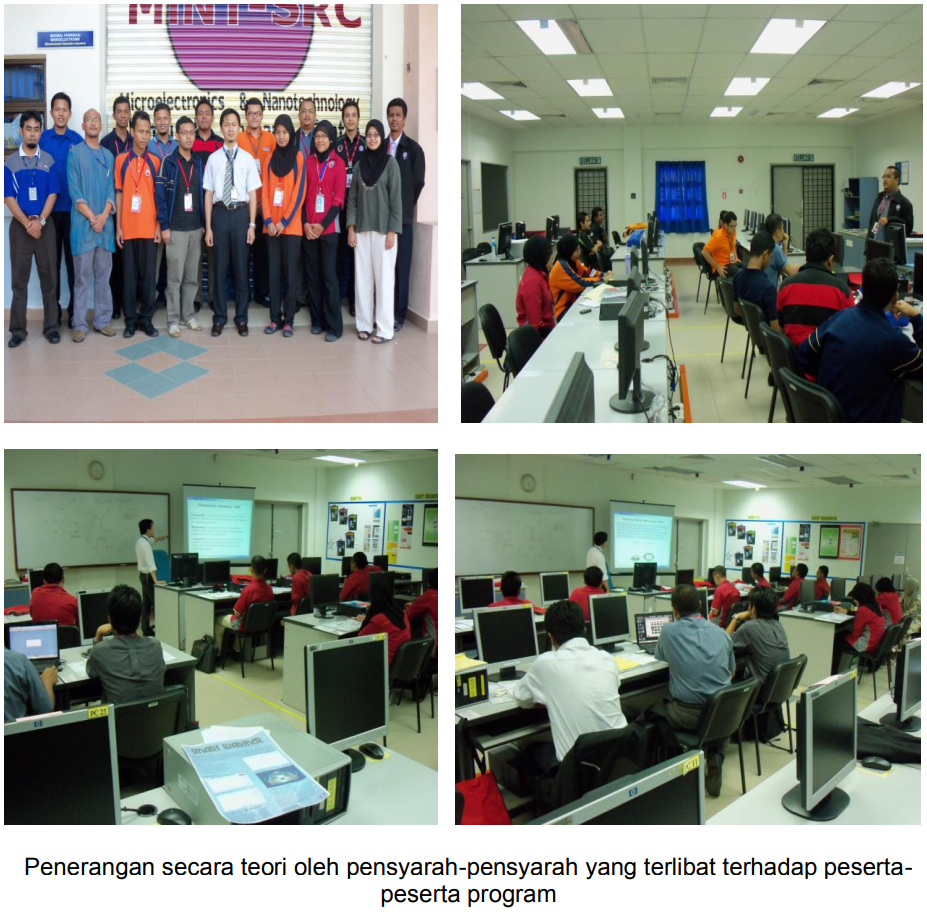 " People are our best assets and understanding what our employees want will ultimately allow the business to achieve its goals. "

 

-The Connectors, Reebonz-